CATV/MATV - Highpass filters
General Purpose Highpass Filters

UHF Antenna Systems Highpass (NTSC and ATSC)

Table of Example HP7 models


---
Model HP7: General Purpose Highpass Filters
Filter passes the upper TV/RF spectrum from Fc (customer specified) and above, and provide >40 dB signal rejection in the stopband (from Fs). Application: Use to isolate frequencies above Fc from frequencies below Fs. Standard HP7 models are listed in a table below. Table includes: typical transition frequencies, and general specifications.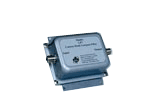 Model HP7
Dim 3.6"L x 1.5"H x 3.2"W
Economical filter offers user specified cutoff (Fc)
Fc is available from 1.5 MHz to 800 MHz
Passband: 550, 750,or 860 MHz (1000 MHz - inquire)
Passband to stopband frequency transition is 5%
Custom trap enhanced skirt for < 5% transition
Low passband loss: < 1dB ± .5dB ripple
Available Indoor or outdoor housing
Example Graphs
---
Model HP7-440/470, UHF band Highpass Filters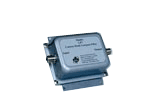 Model HP7-440/470
Dim 3.6"L x 1.5"H x 3.2"W
Model HP7 440/470-C is a High Pass Filter designed for Off-the-Air UHF receive applications. It is used to pass UHF signals (470 to 800 MHz) and block VHF, FM, RF signals that overload UHF pre-amplifier and TV tuner. Suitable for analog and digital signals.
Flat passband: 470 to 800 MHz with low delay ( < 25 nSec)
Passband <1 dB insertion loss (except 1.5 dB @ 470 MHz)
Stopband: DC to 440 MHz ( >40 dB rejection)
Stopband: >75 dB rejection VHF Low/FM bands; >65 dB VHF HI band
Available Indoor, outdoor, and, compact size housings
---
Example High Pass Filters for CATV / MATV
HP7- Fs / Fc (MHz)

Stopband(MHz)

Passband(MHz)
Transition (MHz)
General Specifications
HP7- 6/8.5
0 to 6
8.5 to 550
2.5
Passband...... Fc to 750 MHz
HP7-11/14
0 to 11
14 to 550
3
Option 550, 860, 1000 MHz
HP7-35/43
0 to 35
43 to 750
8
Passband Loss .. <1.5 dB
HP7-48/54
0 to 48
54 to 750
6
Flatness .... ±.5 dB
HP7-71/77
0 to 71
77 to 750
6
Stopband Attn.. 40dB
HP7-98/108
0 to 98
108 to 750
10
Return Loss ... 14dB typ
HP7-108 / 115
0 to 108
115 to 750
7
Power pass: No (optional some models)
HP7-146/153
0 to 146
153 to 750
7
HP7-162/174
0 to 162
174 to 750
12
Dimensions (in):
HP7-220/230
0 to 220
230 to 750
10
3.6L x 1.6H x 3.5W (indoor) 4.5L x 3.25 H x 2.5W (outdoor)
HP7-288/302
0 to 288
302 to 750
14
HP7-342/366
0 to 342
366 to 750
24
Weight(oz) ..6 (indr), 8 (outdr)
HP7-450 / 470
0 to 450
470 to 860
20
Connectors...... F-type Female
HP7-550 / 576
0 to 550
576 to 860
26
F-type male optional
HP7-600 / 628
0 to 600
628 to 860
28
BNC female optional
HP7-650 / 680
0 to 650
680 to 860
30
HP7-750 / 780
0 to 750
780 to 900
30