About Us
A Tradition of Excellence
Since 1968, Tin Lee Electronics Ltd. has been a manufacturer of custom, television and RF systems products. With in-house research, custom manufacturing and an uncompromising commitment to quality, we design and manufacture exactly what you need - when you need it. We have shipped custom-made, hand-crafted, cable TV, TV/FM broadcast reception and RF communication system products to satisfied customers around the world.
Though, over the years, technology and customer needs have changed, our ongoing commitment to manufacture quality products and focus on customer satisfaction has not.
Innovative Research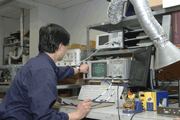 Our in-house research team ensures that we are constantly improving our capabilities as well as re-engineering our components in order to offer the finest products possible.
If technical assistance is required, we offer expertise on filter and trap, TV headend, and signal distribution applications.
Making Connections
Since opening, we have provided high-quality components and solutions to the cable television, RF communications and off-air antenna industries.
Our customers have provided testimonial to our performance expertise, quality products and quick delivery. These are some of the reasons for their continued business cooperation with us.
Tin Lee Electronics Ltd. is also registered in the Central Contractor Registration (CCR) System.
If you require more information or have a product requirement that you wish to discuss, please send us an email or give us a call.
More About Us
TLE Brochure
TLE Flyer